Digital Health Rewired 2022: The Silver Buck Review
After months of remote events, we weren't the only ones looking forward to Digital Health Rewired 2022, which we were fortunate enough to be the PR partners for. The two day event covered all things digital health – from data to digital transformation, as well as the launch of the Digital Nursing Summit – a Rewired first.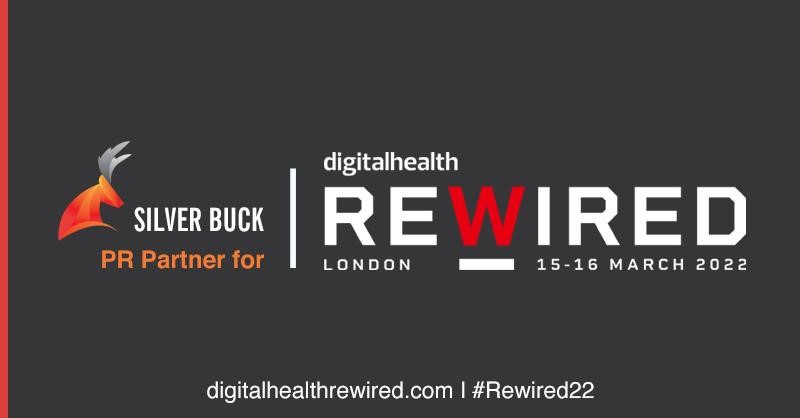 Every year the conference connects people from the digital health sector and hosts a programme of top health leaders from across the UK, discussing the most pressing issues in digital healthcare today. Rewired came at the perfect time given the amount of policy announcements recently in health and care, including the Elective Recovery Plan and the Integration white paper. The event was widely anticipated – so did it live up to expectations?  
The line-up – 10/10
The programme was jam-packed full of keynotes from influential figures within the NHS. The first keynote, given by Simon Bolton, interim chief executive of NHS Digital, set the scene for the next two days. He was honest about the scale of the challenge of NHS digital transformation, but said huge leaps will be made in levelling-up when staff are empowered to innovate and mistakes are accepted as being part of that process. 
He told the conference: " is about people first. It's about how we work with people around us, how we build trust, and how we can encourage people to do their best and create a great environment for people to come and work" 
"We've got a massive journey in front of us with a digitally enabled transformation in the NHS. If anyone thinks we're not going to make some mistakes along that journey, then they're smoking something, we are going to make mistakes." 
This sentiment carried on throughout the conference, with many focusing on how we can learn from past mistakes and improve on digital systems to further implement technology within the NHS. Emphasis was also placed on the way COVID-19 has shifted opinions with regards of digital technologies, an example of this being how many are now more open to remote triage opportunities as the benefits these can have for both patients and clinicians are being realised post pandemic.  
Of course, it wasn't long before data became a conference hot topic. During his keynote, Dr Tim Ferris, director of transformation at NHS England and Improvement, said the NHS needs to learn from the pandemic and focus on harnessing the power of data to improve patient care. He pointed to the vaccine deployment programme, where data was used to highlight communities that were less likely to accept the vaccine. 
However, he recognised this was easier during the pandemic, as barriers were broken down to allow this data sharing to take place. He stressed the NHS must now try to apply the same data analysis to other areas of healthcare.  
During his talk, chief executive of NHS Confederation, Matthew Taylor, reiterated the need for collaboration and flexibility within the NHS in order for digital innovation to thrive. He said there are currently "islands of innovation" within the NHS, but there isn't enough flexibility for them to be expanded across health systems. To tackle this there needs to be "a vision for the future to inspire people, and genuine priorities", according to Matthew. 
There were also some great panel sessions, with prominent speakers – including Dr Minal Bakhai, deputy director and clinical lead for digital primary care at NHSE. They sparked lively and thought-provoking debate, leaving attendees feeling inspired and motivated to make digital transformation a priority in their organisations. 
Footfall and audience – 10/10
Following the pandemic, a lot of people were feeling fatigued from virtual conferences, so it's no surprise that the conference was heaving across both days.  
Digital health enthusiasts came in full-force to network with like-minded people to make the most of the free coffee and chocolate on offer at some of the stands in the exhibition. The atmosphere was one of excitement and passion – something all exhibitors hope for!  
The venue – 9/10
The Business Design Centre was great at facilitating the exhibitors in one space with all stalls clearly laid out and easy to locate. There was a constant footfall through the exhibition too, even when the keynotes were taking place. It lent itself well to the different stages, where the talks and workshops were held.  
Content – 10/10
Digital Health Rewired did an amazing job of showcasing the vast amount of talent and passion prevalent within the sector. By having different stages, the conference was able to cover the key policy topics and innovations happening within digital health. The stages were broken down thematically into the following categories:  
National Policy

 

Digital Transformation

 

Integrated Care 

 

AI and Data 

 

Smart Health 

 

Digital Nursing 

 

Best Practice 

 
'Innovation into Practice' was particularly gripping. Speakers elaborated on the benefits of digital triage for both patients and clinicians. It was exciting to see all the work being done on this by a range of companies, something which will play a significant role in alleviating the patient backlog the NHS is currently facing.  
The final panel on the National Policy Stage focused on digital patient safety leadership. It touched on some of the key challenges and areas for improvement when it comes to digital health. Dr Aidan Fowler, national director of patient safety for NHS improvement and deputy chief medical officer, noted the main reason for errors in primary care is down to care pathways lacking refinement, something that leads to a diagnostic loss. He said: "It is important that we keep tracking patients and keeping continuous pathways across a system that is silently dispersed." 
Digital Health Rewired also hosted Pitchfest, where newly established digital health organisations gain recognition and showcase their innovations to key players in the NHS.  In the end, CardMedic was the deserved winners with their award-winning communication tool!

Speaking on her experience at Digital Health Rewired and as this years Pitchfest winner, Rachael Grimaldi, Chief Executive and Co-Founder of CardMedic, said:
"To win Pitchfest was a total surprise. We were up against companies who have been doing this a lot longer than us, with really experienced teams behind them. For me, there has always been that imposter syndrome to tackle as well, so to win was an incredible feeling.
It's only been a few days since the win and we're already having exciting conversations with trusts, investors and partners, many of which have been borne out of networking that took place at Rewired. Since the pandemic, the health inequalities agenda is huge, and we're feeling more equipped than we ever have to tackle them head on."
Exhibition – 9/10
The sheer number of exhibitors present and the varied work they do within digital health shows just how fast the sector is growing and developing. There was a vast range of organisations present, from those focusing on AI and transformation to remote triage and e-consultations. When it comes to finding an event covering almost everything related to digital health, you'd be hard pushed to find a place better than Rewired! 
Networking – 9/10
In between the sessions there was good opportunity to catch up with old colleagues and new. The exhibition had a steady footfall throughout the event. The networking drinks on Tuesday were also a great way for people to get to know and learn from each other. 
In Summary 
From the buzz and atmosphere at the event it seemed people were ready to get back to an in-person conference, and Digital Health Rewired did not disappoint! The two days were packed full of a star-studded line-up and multiple stages meant all hot-topics in digital health were covered.  
We really enjoyed running the press office and attending the sessions.  We're looking forward to seeing what Digital Health does with Rewired next year!  
Overall Silver Buck Rating – 9
/
10
.